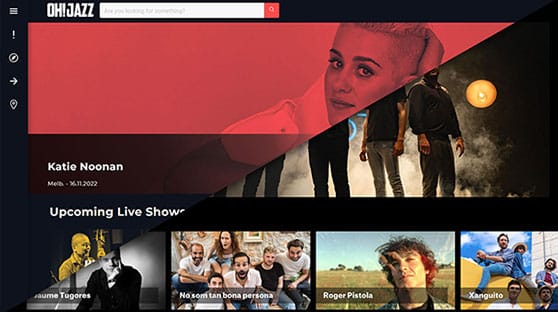 Throughout 2022 cinfo has developed to multimedia OTTs and has won 3 competitions for the development of 3 more platforms to be released during the first semester of 2023.
Moreover, 4 of these 5 platforms produce their content using cinfo's automatic production system, achieving full integration between content creation and distribution platforms.
OTT clients are private companies that want to offer their public-entity client (regional or autonomic governments) a high-quality product to communicate their public what is taking place in their localities.
---
cinfo's content unit continues their work with Euskaltel group and adds new clients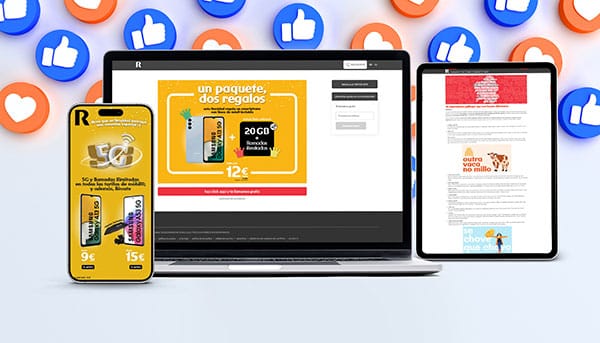 cinfo has been helping companies and institutions to shape their ad hoc communications project for years: communication campaigns design (claims, graphic and editorial line definition, and give direction to all campaign communications); web development, editorial and management of corporate or special events' websites; digital marketing (SEM/SEO campaigns, mailings, banners, landing pages, blogs, newsletters); social media management; video, publicity, television, magazine and contest solutions; video production; merchandising; graphic asset design for posters or publicity (printed or online).
Through last year, cinfo continued providing its services for campaign planning, digital marketing and blog writing for Euskaltel, R Cable, Telecable, Más Móvil and more; as well as managing the all communications and revitalization of shows included in the EDUSIS Lalín SSuma21 and Más Ribeira Atlántica 2020 in the towns of Lalín and Ribeira, and the management of the websites for the communication and distribution of the informative sessions of AXIS products. All these will continue throughout 2023.
---
Más Móvil continues to trust cinfo for the development of app backend, front end, IoT and BigData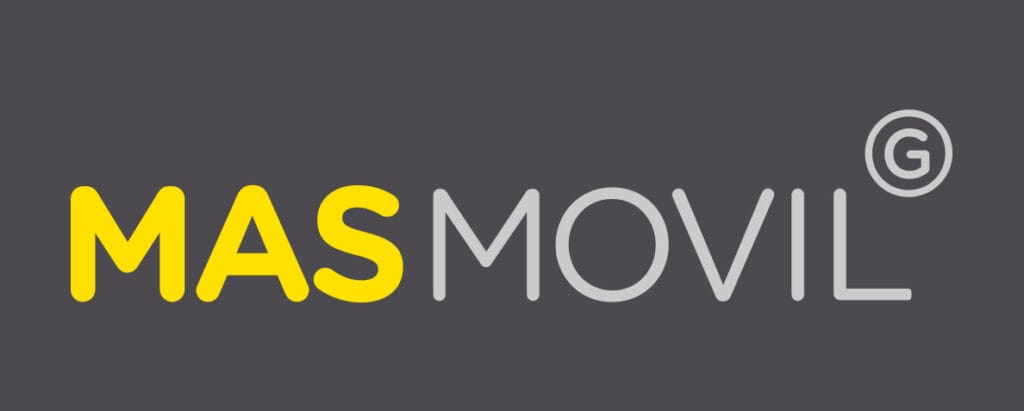 Más Móvil has renewed for 2023 the services cinfo has been providing for years in the development of backend, front end, IoT and BigData. cinfo is part of various project with the Euskaltel Group, among which we can highlight BRAN – a proxy of a variety of backends; a system that translates different front ends to backends using a wide range of languages, therefore simplifying operations for all the brands within the group.
cinfo is also in charge of the companies' website development, of the IoT project and the development of Mileva; a BigData platform which the group commercializes to their clients.
---
Agile trusts cinfo with their EPG and VoD services

cinfo offers metadata technology and services for EPG and VoD for television operators, OTT platforms and other audiovisual media.
cinfo is in charge of developing the technology and services required to enhance the EPG and on demand services of telecommunications operators, such as R, Telecable, Euskaltel, Cellnex or companies like Prisa, FOX and Sky among others.
Ever since last week, cinfo has offered their metadata to tv services who are part of Agile.
We have a vast database with more than 590K audiovisual products, 175.4K images, 40K serial products and 180K cast and crew data. We manage broadcaster lineups, both national and international, and VoD and OTT content catalogs.
cinfo offers customized metadata formats for our clients. Furthermore, our services catalog includes: catchup, channel alignment, translation to required languages, featured content, recommendations, premiers, press layout design, meta information enhancement with a large and expert team of editors, content tagging, promotion channels, pre-roll services, ads detection, Q&A and our own content management system.
We are constantly growing and developing, having a technology department whose focus is developing ever-evolving systems, improving the efficiency and competitiveness of our products and services.
---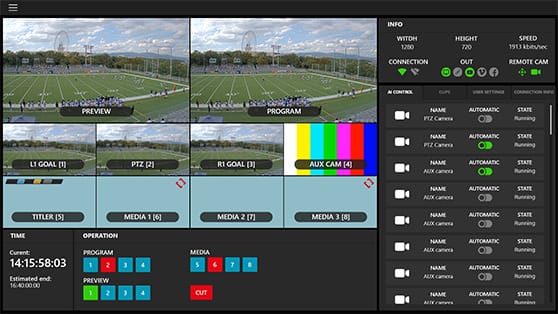 2022 has been a year for consolidation and growth in all aspects.
A technological highlight has been the development of the new tracking system which has exponentially improved the quality of the broadcasts, benefiting many of our clients such as Lalín, Orense, Málaga, Las Palmas or Carballo.
Commercially, cinfo has reached a total of 1,500 events produced with more than 3,000 broadcasting hours, all with artificial intelligence, and with the current commercial growth, it is expected to reach 5,000 events in 2023. New clients such as the regional government of Andalucía, the town of Ribeira, A Coruña's Teatro Colón or Madrid's Café Berlín have joined the tiivii family.
Finally, new sports have been added with the development of our artificial intelligence, allowing us to automatically produce gymnastics, kayak-polo, skating and padel
---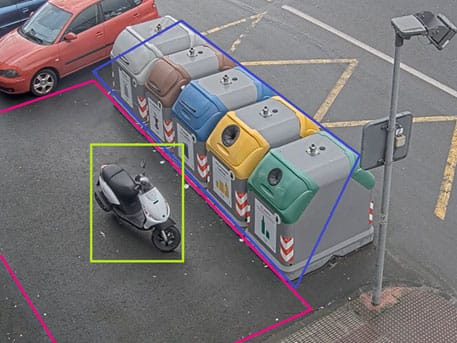 cinfo has developed several solutions for smartcities based on artificial intelligence. Smart bus stops that count the number of people waiting for the bus and how many get on and off, with the purpose of optimizing routes; detect double-parked cars; the detection of littering or packages forgotten at loading docks; safer pedestrian crossing with warnings in danger situations; vehicle counting and license plate detection; traffic flow and patterns detection; capacity tracking for beaches and car parks and measurement of how long they are parked.
These solutions are ready for immediate implementation in any town or city looking to improve services to the public.
---
New interactive TV developments for Telcos
cinfo continues developing the base app for the set-top boxes of major national TV operators. The TV app includes integration with various players for different environments (DVB-C, DVB-T, IPTV, OTT), as well as the conditional access management to control content access, remote catalog configuration and a wide range of presentations for on demand content.
Moreover, the app also allows playing several VoD modes (timeshift, catchup, startOver, pvr..); and the user interface counts with integration with major streaming apps (Netflix, Amazon..), as well as analytics and publicity service
---

In 2020, the European Union selected tiivii as the most innovative automatic production system in Europe with the EIC Accelerator program, and financed part of the development. 2 years later, the results obtained have been presented successfully; later being highlighted and selected for publishing on the "Results in Brief" section of the European Commission website CORDIS
---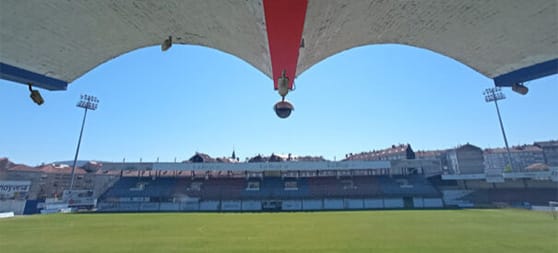 In 2022, cinfo completed their 5G project with Orange and TVG (Galician Autonomic Television) for the broadcasting of games produced with artificial intelligence and 5G networks. This pilot took place at the o Couto stadium in Orense throughout the first semester of 2022, when several games were produced together with TVG without human intervention.
Similarly, cinfo has been working with Telefonica carrying out tests with the operator's 5G network to analyze various quality parameters. Tests took place last December in the beach voley stadium in Puerta de Hierro, Madrid.
tiivii is a system that benefits from all the advantages of a 5G network, and therefore is the perfect product for the development of these next-generation networks.
cinfo returns to Amsterdam for IBC2022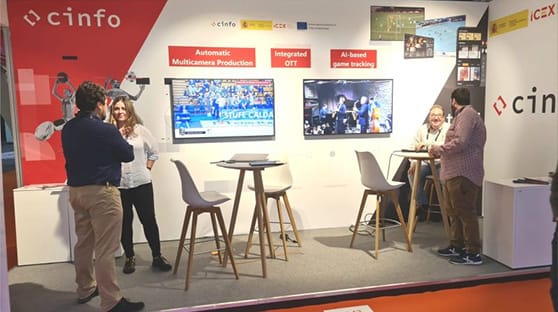 2 years after the last edition due to cancellations caused by the pandemic, cinfo returns to IBC.
After such a long time, we had the opportunity to meet clients and partners whom we had not been able to see in person for years, learn about new technologies in the industry, present all the new improvements of our automatic production system tiivii, and introduce a new product: tiivii OTT.
tiivii OTT, the new addition to our portfolio, is integrated with our production system tiivii which allows us to offer an end-to-end solution; from the recording and production of live events, to the streaming and monetization to the content. With companies in the technology and audiovisual industries from all over the world present, IBC was the perfect setting to present this integrated solution.